Embosphere® Microspheres are the most clinically studied and clinically proven round embolic, providing consistent and predictable results for controlled and effective embolization.
Regulatory Information
USA
Embosphere® Microspheres are indicated for use in embolization of arteriovenous malformations, hypervascular tumors, and symptomatic uterine fibroids.
European Union
Embosphere® Microspheres are indicated for use in hemostatic embolization and in embolization of arteriovenous malformations, hypervascular tumors, including uterine fibroids and meningiomas, and the prostate arteries for relief of symptoms related to Benign Prostatic Hyperplasia (BPH).
Embosphere® Microspheres are:
PREDICTABLE – Embosphere® Microspheres temporarily compress up to 33% for smooth microcatheter passage(A). Once through the microcatheter, they return to their original spherical shape and stated diameter (B) for predictable, reliable delivery.1

TARGETED – Embosphere® Microspheres have consistently demonstrated a direct correlation between the level of arterial occlusion and size of the microsphere used/injected.2-4  This unique feature gives physicians control over the embolization process.
ESTABLISHED – Embosphere® Microspheres have an extensive history, with more than 20 years of clinical use and over 250 clinical articles.5
Percentage of Patients with Complete Infarction Rates of Overall Uterine Fibroid Tumor Burden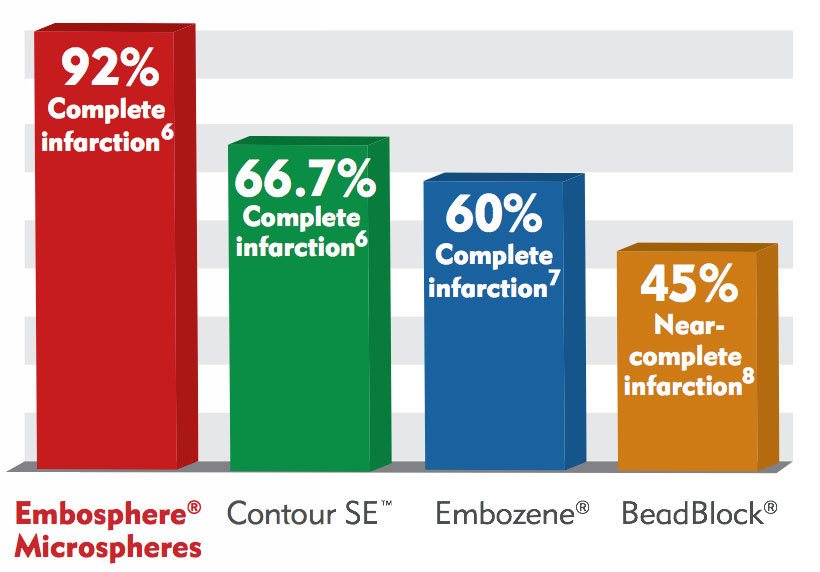 With Embosphere® Microspheres, 92.3% of patients experienced 100% infarction of their entire uterine fibroid burden. Complete infarction of all fibroids leads to better long-term clinical outcomes, including a higher rate of symptom control and a lower rate of additional gynecologic intervention compared with incomplete infarction of fibroid tissue.9 
Durable Occlusion
Embosphere® Microspheres are biocompatible and nonresorbable with cell adhesion properties for complete and durable mechanical occlusion.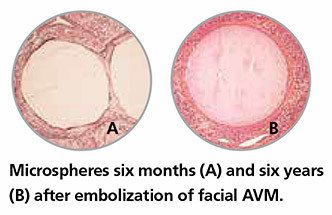 Compressible and Resilient Material
Elastic properties allow temporary compression of up to 33%, facilitating smooth microcatheter passage. Resilient material returns to stated diameter after delivery, contributing to durable and targeted results.
Non-Aggregating Properties
The hydrophilic surface and spherical shape of Embosphere® Microspheres prevent aggregation in the catheter lumen and vasculature.
Highly Targeted Delivery
Embosphere® Microspheres are available in seven size ranges to allow physicians to target the microvasculature of the tumor and shut down the feeder network while maintaining patency of the major artery feeding the organ.
The Clinically Proven Round Embolic
"Given the known risk of recurrence in patients with persistent tumor enhancement after UAE, it is concluded that tris-acryl gelatin microspheres should be the preferred agent for UAE at this time."
Siskin GP, et al. Leiomyoma Infarction after Uterine Artery Embolization:
A Prospective Randomized Study Comparing Tris-acryl Gelatin Microspheres versus Polyvinyl Alcohol Microspheres. J Vasc Interv Radiol 2008; 19: 58-65.
"The primary embolic agent used was calibrated microspheres in 73% of cases (either Embosphere or Embosphere Gold, Biosphere Medical, Rockland, MA)…"
Worthington-Kirsch R, et al. The Fibroid Registry for Outcomes Data (FIBROID) for Uterine Embolization – Short Term Outcomes. Obstet & Gynecol 2005; 106: 52-9.
"[Patients] treated with TAGM were significantly more likely to have complete infarction of all leiomyomas…The use of spherical PVA particles in the manner described herein results in an unacceptably high rate of failed tumor infarction in UAE."
Spies JB, et al. Spherical Polyvinyl Alcohol Versus Trisacryl Gelatin Microspheres for Uterine Artery Embolization for Leiomyomas: Results of a Limited Randomized Comparative Study. J Vasc Interv Radiol 2005;16:1431-7.
"Over the long term, UFE using TAGM is effective and safe, with high levels of durable symptom control, improved health-related quality of life and patient satisfaction."
Spies JB, et al. Long-Term Outcome from Uterine Fibroid Embolization Using Tris-Acryl Gelatin Microspheres. J Vasc Interv Radiol 2007; 18: 203-7
If you think you are a candidate for Uterine Fibroid Embolization (UFE), please refer to 
ask4ufe.com
 for more information.
REFERENCES
Laurent, et al. Trisacryl Gelatin Microspheres for Therapeutic Embolization, I: Development and In Vitro Evaluation. Am J Neuroradial. 1996 Mar; 17:533-540
Pelage JP, et al. Uterine Artery Embolization in Sheep: Comparison of Acute Effects with Polyvinyl Alcohol Particles and Calibrated Microspheres. Radiol. 2002;224:436-45
Verret V, et al. The Arterial Distribution of Embozene and Embosphere Microspheres in Sheep Kidney and Uterus Embolization Models. J Vasc Interv Radiol. 2011 Feb;22(2):220-8
Laurent A, et al. Location of Vessel Occlusion of Calibrated Tris-acryl Gelatin Microspheres for Tumor and Arteriovenous Malformation Embolization. J Vasc Interv Radiol 2004; 15:491–4962004
Data on file
Siskin G, et al. Leiomyoma Infarction after Uterine Artery Embolization: A Prospective Randomized Study Comparing Tris-acryl Gelatin Microspheres versus Polyvinyl Alcohol Microspheres. J Vasc Interv Radiol. 2008; 19:42-46
Smeets AJ, et al. Embolization of Uterine Leiomyomas with Polyzene F-coated Hydrogel Microspheres: Initial Experience. J Vasc Interv Radiol. 2010 Dec;21(12):1830-4
Chrisman HB, et al., Prospective Evaluation of the Embolic Agent Bead Block in the Treatment of Uterine Leiomyomas with Uterine Artery Embolization. J Vasc Interv Radiol. 2010 Apr;21(4):484-9
Katsumori T, et al. Infarction of Uterine Fibroids After Embolization: Relationship Between Postprocedural Enhanced MRI Findings and Long-Term Clinical Outcomes. Cardiovasc Intervent Radiol. 2008;31:66