InQwire diagnostic guide wires are precoated with PTFE over the entire wire surface for smooth, consistent coverage that resists flaking. Less friction means increased trackability, lubricity, and durability. Its precise J-tip memory does not require reloading the J straightener and the tight guide wire tolerances ensure catheter and sheath compatibility. The InQwire is also available with heparin coating to minimize clot formation. Heparin coating is not approved or available for sale in the European Union.

Flush Hoop
Improved design – Simplifies wire flushing
Luer lock flush port – Provides quick, easy syringe attachment
Rotating flush port – Protects the wire tip
Small size – Maximizes back table space

J Straighteners
New thumb indentation with more flexible materials – Facilitates movement of the wire and straightener as one unit
Improved larger funnel shaped proximal opening – Faster and easier wire loading
Lengthened tip taper body design – Directs straightener toward the center of luer opening

RingMaster
Convenient way to access wires
Hydration – Keeps wires hydrated during procedure
Unique size – Optimizes space on back table
Bright color – Easily visualized in low light
Versatile – Holds catheters & wires
Cost effective – Potential decrease in wire contamination
Identification – Separates wires for easy selection
Finger-Straightenable
Does not require reloading the J- straightener
Precise J-Tip Memory
Consistency in the wire performance
Dimensional Control
Tight tolerances ensure catheter and sheath compatibility
Pre-Coating
An innovative process that coats the complete wire surface with PTFE, prior to guide wire assembly. This provides a smooth consistent surface, for increased catheter compatibility.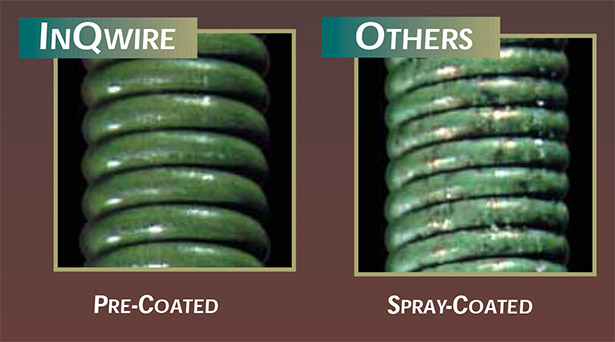 Benefits of Pre-coating
Smooth surface

Less friction – increased tracking
Consistent performance

Safety

Reduction of blood clot formation and adherence
Resists flaking of PTFE coating

Increased lubricity

Better catheter compatibility

Improved durability

Consistent performance after multiple catheter exchanges
Insertion force
Less force required for wire passage through catheters – aids in wire stability and positioning

Heparin coated wires

Available in new configuration
May help minimize the likelihood of blood clot formation on the guide wire